2009 Harper Flexographic Solutions Tour Coming to a City Near You!
Charlotte, N.C., February 06, 2009 - Harper GraphicSolutions, the technical service division of global anilox supplier Harper Corporation, is pleased to announce the schedule for the 2009 Harper Flexographic Solutions Tour™.
Once again, the Harper GraphicSolutions team has invited co-suppliers and other industry experts to join it for a series of FREE one-day seminars that focus on trouble-shooting pre-press and print room problem areas, and cover the latest technologies and techniques to improve print quality and press efficiency. The dates, cities and venues for this year's tour follow:
Rochester, NY - Wed. April 15, 2009 Rochester Institute of Technology 66 Lomb Memorial Drive Rochester, NY 14623
Louisville, KY - Tues. Sept. 22, 2009 Hilton Garden Inn Louisville Airport 2735 Crittenden Drive Louisville, KY 40209
St. Louis, MO - Thurs. June 11, 2009 Drury Plaza Chesterfield 355 Chesterfield Center East St Louis, MO 63017
Appleton, WI - Wed. Oct. 14, 2009 Fox Valley Technical College 5 Systems Drive, DJ Bordini Center Appleton, WI 54913
Denver, CO - Wed. August 19, 2009 Embassy Suites Denver Tech Center 10250 East Costilla Avenue Centennial, CO 80012
There is no charge for these one-day seminars, and businesses may send an unlimited number of staff members. Early registration is recommended due to limited seating.
Sessions are designed for print managers; print supervisors; operators; pre-press managers; graphic designers; ink, plate and pre-press suppliers; and purchasing and/or general managers. Specific seminars will vary by locations, but sample topics include:
Troubleshooting die-cutting issues
Press inputs for success
Pre-press practices to control color management
Producing predictable and reproducible flexo
Rotary die selection and operations
Ink handling for paper and film
Plate mounting
The affect of substrate differences on the printing process
And of course, plenty of time is allotted for answering audience questions.
For further information, please contact Jazmin Kluttz at 704-588-3371 or jkluttz@harperimage.com.
Quality Care and Maintenance
Supplies for Your Pressroom
Keep your pressroom running smoothly with HarperScientific's variety of care and maintenance supplies. Our comprehensive line includes ink proofers like our patented QD™ proofer for color matching, press washes, solvents, plate cleaners, and brushes. Trust us to provide the high-quality supplies your pressroom needs. Shop now.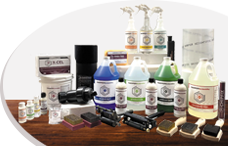 Visit Our Shopping Cart