After Thorough Audit, Harper Corporation Earns Certification to ISO 9001:2008 Standard
Charlotte, N.C., January 12, 2010 -  Global anilox supplier Harper Corporation of America has earned prestigious ISO 9001:2008 certification after a detailed audit of its operations performed by the DNV (Det Norske Veritas).
Certification of Harper, as part of the machinery and equipment sector, covers employees and production capabilities at two company facilities involved in the design, manufacture, repair, service and replacement parts for anilox rolls for the printing industry.
"Meeting demanding ISO standards has continued to be at the core of how we work as a company and how we serve our customers world-wide since our very first audit and accreditation in 1996," said Ben Carter, Harper's Corporate Quality Assurance Manager.
"We take pride in complying with our industry's benchmarks for excellence; that's what ISO 9001:2008 is all about."
DNV is one of a select group of registrars authorized to conduct extensive initial and renewal audits of applying companies who seek official ISO status and recognition.
As a Certified Product and Service Provider, Harper is entitled to display the new ISO 9001:2008 logo on its corporate marketing and merchandising literature.
For further information, please contact Jazmin Kluttz at 704-588-3371 or jkluttz@harperimage.com
Quality Care and Maintenance
Supplies for Your Pressroom
Keep your pressroom running smoothly with HarperScientific's variety of care and maintenance supplies. Our comprehensive line includes ink proofers like our patented QD™ proofer for color matching, press washes, solvents, plate cleaners, and brushes. Trust us to provide the high-quality supplies your pressroom needs. Shop now.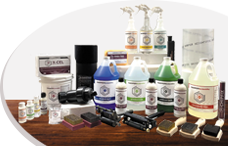 Visit Our Shopping Cart