Clemson and Minneapolis Roadshow Events a Success for Harper Corporation of America
Charlotte, North Carolina, September 10, 2012—Held on Thursday, August 23, the "Quantifying the Process" themed Clemson stop on the Harper Roadshow, hosted by global anilox roll supplier Harper Corporation of America, was a success. The Minneapolis stop, which took place on Wednesday, August 1, was also a triumph.
The Harper Roadshow, presented at The Madren Conference Center at Clemson University, offered attendees the opportunity to listen to and network with industry leaders and professionals and learn more about the cutting-edge technology of the flexographic field. Representatives from Harper Corporation of America, Flexo Wash, Siegwerk, 3M, Flxon, and ESKO spoke regarding a long list of topics relevant to today's professionals. Some of these subjects included fast match-color, doctor blades, prepress operations, ink proofing, cleaning solutions, quantification, and tape selection.
Event attendees were treated to a complimentary lunch and door prize event. Additionally, they were given a tour of Clemson University's campus, which boasts a leading flexographic program.
Held at the Dunwoody College of Technology, the Minneapolis event also provided attendees with networking and learning opportunities. The presentations made at this stop on the Roadshow considered the topics of ink workflow, communication, tape selection, photopolymer plates, and more. These presentations were provided by leading flexographic professionals representing Harper Corporation, Flint Group Packaging & NW, Esko Graphics, DuPont Packaging Graphics, 3M, Dunwoody College of Technology, and Mark Andy Incorporated. Attendees were also treated to live demonstrations.
Harper Corporation of America is happy to have had the opportunity to interact with professionals in the Clemson and Minneapolis areas and looks forward to the remaining stop on the Roadshow tour at the Rochester Institute of Technology in Rochester, New York.
For more information, please contact Jazmin Kluttz at 704-588-3371, ext. 4292, or jkluttz@harperimage.com.
Quality Care and Maintenance
Supplies for Your Pressroom
Keep your pressroom running smoothly with HarperScientific's variety of care and maintenance supplies. Our comprehensive line includes ink proofers like our patented QD™ proofer for color matching, press washes, solvents, plate cleaners, and brushes. Trust us to provide the high-quality supplies your pressroom needs. Shop now.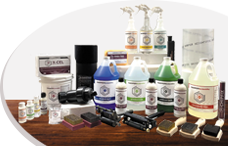 Visit Our Shopping Cart