Corrugators Express Broad Interest in Harper Products at Colombia Expo
Charlotte, N.C., October 9, 2009 - Global anilox supplier Harper Corporation of America displayed a variety of products and answered questions from many corrugators during the recent ACCCSA Expo in Colombia.
Juan Bermudez, Harper's Sales & Service Manager for Latin America, also covered many aspects of flexo printing with his presentation "Returning to the Basics of Flexo Printing." Harper was among more than 80 international enterprises on hand to network and talk solutions with businesses related to the corrugated industry.
According to Bermudez, corrugators who visited the Harper exhibit showed special concern, seeking more information about Harper's XLT™ anilox roll technology and its line of cleaners, including Ceram Clean II™ and the Multi-Purpose MasterMix™. The extremely positive reaction by visitors generated a number of new sales, he said.
"Printing quality is one of the main issues confronting the corrugated industry," Bermudez said. "Harper is a very important resource to all printers whose objective is to take their printing quality to a higher level. By taking advantage of our anilox technology and technical knowledge, flexo printers can more easily reach their printing objective."
The three-day show featured a number of conferences and lectures as well as plenty of time for interchange between interested attendees and manufacturers of machines, systems and supplies geared to corrugated processes.
For further information, please contact Jazmin Kluttz at 704-588-3371 or jkluttz@harperimage.com.
Quality Care and Maintenance
Supplies for Your Pressroom
Keep your pressroom running smoothly with HarperScientific's variety of care and maintenance supplies. Our comprehensive line includes ink proofers like our patented QD™ proofer for color matching, press washes, solvents, plate cleaners, and brushes. Trust us to provide the high-quality supplies your pressroom needs. Shop now.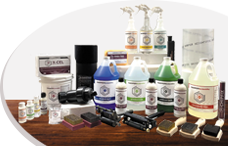 Visit Our Shopping Cart