Gerry O'Hanlon Joins Harper Corporation of America as Southeast Technical Account Manager for the Wide Web Industry
Charlotte, North Carolina, September 17, 2012—Global anilox roll supplier Harper Corporation of America relies upon the expertise of its team to continue to provide the highest degree of technological innovation and customer service to its clients. For this reason, the Harper family chooses new employees who are ready to contribute to the success of the organization and its clientele. Gerry O'Hanlon has recently joined the Harper Corporation of America team as a Southeast Technical Account Manager for the Wide Web industry and is poised to uphold the standards by which Harper operates.
O'Hanlon has over 25 years of experience in the printing industry and holds a City & Guilds from the London College of Printing, which equates to a Bachelor's Degree in Printing Management and Printing Science accredited by Clemson University. Born in Glasgow, Scotland, O'Hanlon immigrated to the United States in 1998.
O'Hanlon's expertise has been shaped by his professional history, which includes a 4 year apprenticeship with John Horn-Rexam. He has also designed numerous team building activities, facilitated multiple training classes, and led cost-saving six sigma initiatives. His most recent project saved RockTenn nearly $1 million over the course of just 2 years. He has also served as a speaker at industry events.
Over the last 14 years, O'Hanlon has taken on increasing responsibility at RockTenn. Before joining the Harper Corporation team, he acted as Plant Manager at the RockTenn Lebanon Folding Carton facility in Lebanon, Tennessee.
Harper Corporation of America is happy to welcome O'Hanlon to the team and looks forward to working with him to provide the leading services that Harper's clients expect.
For more information, please contact Jazmin Kluttz at 704-588-3371, ext. 4292, or jkluttz@harperimage.com.
Quality Care and Maintenance
Supplies for Your Pressroom
Keep your pressroom running smoothly with HarperScientific's variety of care and maintenance supplies. Our comprehensive line includes ink proofers like our patented QD™ proofer for color matching, press washes, solvents, plate cleaners, and brushes. Trust us to provide the high-quality supplies your pressroom needs. Shop now.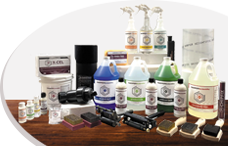 Visit Our Shopping Cart