Harper Corporation Announces Support of FFTA Spring Auction, Donates Four Anilox Rolls
Charlotte, North Carolina, February 6, 2012—In another show of support to the educational community of the flexographic industry, global anilox roll supplier Harper Corporation has donated four anilox rolls to a spring auction held by the Foundation of Flexographic Technical Association, or FFTA.
The auction's proceeds will contribute to available scholarships for FIRST "Press" or "Prepress" Operator Certification. This certification, which is administered by the FFTA and obtained by many flexographic professionals, teaches the skills that individuals need to thrive in this industry.
The four rolls that Harper Corporation has donated are worth up to a $10,000 value. The winning bidder will be able to choose the rolls that he or she wants from the Narrow Web stock inventory. This inventory holds rolls whose line screens range from 200 to 1,000 cells per inch and 60-degree XLT™ engravings.
Harper Corporation of America and its divisions, including HarperScientific and Harper GraphicSolutions, constantly support the educational efforts of flexographic professionals and training institutions. Obtaining certification through the FFTA is a respected accomplishment in the field, one that Harper Corporation encourages.
For more information, please contact Jazmin Kluttz at 704-588-3371, ext. 4292, or jkluttz@harperimage.com.
To learn more about FFTA's online auction, visithttp://www.charityauctionstoday.com/store.php?username=FFTA
Quality Care and Maintenance
Supplies for Your Pressroom
Keep your pressroom running smoothly with HarperScientific's variety of care and maintenance supplies. Our comprehensive line includes ink proofers like our patented QD™ proofer for color matching, press washes, solvents, plate cleaners, and brushes. Trust us to provide the high-quality supplies your pressroom needs. Shop now.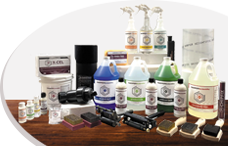 Visit Our Shopping Cart