Harper Corporation Donates Four Anilox Rolls To FFTA Spring Auction
Charlotte, NC, January 14, 2011 – An online auction to fund certification scholarships received goods news recently when global anilox supplier Harper Corporation of America donated four Narrow Web anilox rolls from its stock inventory.
The auction will raise scholarship money for individuals pursuing a FIRST 'Press' or 'Prepress' Operator Certification. The certification, offered through the Foundation of Flexographic Technical Association (FFTA), requires completion of a curriculum comprised of online study and exams.
Harper's contribution of four anilox rollers fits perfectly with FFTA's desire to feature in the auction signature items such as press equipment/accessories, ancillary supplies, idle press time and direct mail services.
Winning bidder on the Harper entry can select any four base rollers from the company's Narrow Web stock anilox inventory, with line screens ranging from 200 to 1,000 cells per inch and 60-degree XLT engravings. Delivery is based on Harper's standard lead time. The anilox rolls are valued at over $10,000. Bids for the rolls will continue into the spring.
Support for the auction at Harper began in December when HarperScientific™, the company's printing and coating supplies division, donated a new Phantom™ Proofer System to bid on.
"We have supported education, training and other initiatives that advance our industry for many years," said Pete Hartman, VP of Sales of Harper Corporation. "Certification is certainly a worthy cause and FFTA a most respected sponsor. We're happy to play a part."
For further information, please contact Jazmin Kluttz at 704-588-3371 or jkluttz@harperimage.com. To learn more about FFTA's online auction, visit www.flexography.org/edutrain/education/online-auction.cfm
Quality Care and Maintenance
Supplies for Your Pressroom
Keep your pressroom running smoothly with HarperScientific's variety of care and maintenance supplies. Our comprehensive line includes ink proofers like our patented QD™ proofer for color matching, press washes, solvents, plate cleaners, and brushes. Trust us to provide the high-quality supplies your pressroom needs. Shop now.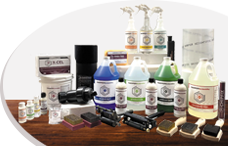 Visit Our Shopping Cart