Harper Corporation of America's Sean Teufler to Speak at FTA's 2011 Fall Conference and Tabletop Exhibition
Charlotte, North Carolina, October 6, 2011— Global anilox roll supplier Harper Corporation of America will be participating in the 2011 FTA Fall Conference and Tabletop Exhibition from October 10 to October 12, 2011.
Called "Color in Focus," this event's tabletop exhibition will provide participants with the ability to meet face to face with some of the industry's most innovative color management professionals.
In addition to having a tabletop at which event goers can meet with the company's color management professionals, Harper Corporation of America will be represented by Sean Teufler, the Technical Graphic Adviser of Harper GraphicSolutions. Teufler will be giving a presentation entitled, "Final Analysis: FQC UV Ink Spitting Project," on Wednesday, October 12.
Teufler's presentation will discuss the issue of UV ink spitting, which is a phenomenon that has plagued flexographic professionals for generations. A study, assembled by the FQC, has researched and analyzed UV ink spitting and has made some important recommendations pertaining to eliminating this phenomenon. These recommendations will be discussed during Teufler's presentation and are important to all members of the flexographic industry.
Color in Focus will take place on October 10-12, 2011 at the Marriot Union Station in St. Louis, Missouri. Registration is now open and interested individuals are encouraged to register soon, as the event is quickly approaching.
For further information, please contact Jazmin Kluttz at 704-588-3371 or jkluttz@harperimage.com.
Quality Care and Maintenance
Supplies for Your Pressroom
Keep your pressroom running smoothly with HarperScientific's variety of care and maintenance supplies. Our comprehensive line includes ink proofers like our patented QD™ proofer for color matching, press washes, solvents, plate cleaners, and brushes. Trust us to provide the high-quality supplies your pressroom needs. Shop now.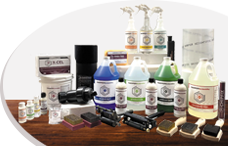 Visit Our Shopping Cart