Harper Corporation of America Announces Exciting New Partnership, Expands HEX Division
Charlotte, North Carolina, September 23, 2013—A leader in the flexographic industry, global anilox roll supplier Harper Corporation of America is continually looking for new ways to improve the products and services that it offers. With an international clientele to consider, the team at Harper has cultivated an exceptional catalogue that sees to the every need of customers around the world. The latest announcement of a partnership between Harper Corporation of America and MECA & Technology Machine, Inc. only furthers the company's ability to provide clients with best in class equipment and support.
Harper Corporation's Vice President of Operations Lee Kluttz announced on Wednesday, September 11, that the partnership had been officially created. He states: "I couldn't think of a better way for two American owned and operated companies to sign a partnership than on the 12th anniversary of 9/11. We are very excited about this relationship and truly feel that this will be a huge benefit for our customers on a global scale."
Kluttz goes on to explain that this partnership with MECA will expand the product line associated with the recently developed HEX Division. Ultimately, Harper will now offer MECA products, including plate sleeves, bridges, mandrels, and mechanically-engraved anilox rolls. A company that is devoted to quality, Harper is certain that the high standard to which MECA adheres will support its mission of bringing the best in products and services to clients worldwide.
For more information, please contact Jazmin Cordero at 704-588-3371, ext. 4292, or jcordero@harperimage.com.
Quality Care and Maintenance
Supplies for Your Pressroom
Keep your pressroom running smoothly with HarperScientific's variety of care and maintenance supplies. Our comprehensive line includes ink proofers like our patented QD™ proofer for color matching, press washes, solvents, plate cleaners, and brushes. Trust us to provide the high-quality supplies your pressroom needs. Shop now.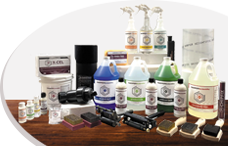 Visit Our Shopping Cart