Harper Corporation of America Anticipates Success at ICE USA
Charlotte, North Carolina, March 25, 2013—A regular at industry events, global anilox roll supplier Harper Corporation of America is looking forward to the 2013 International Converting Exhibition (ICE) USA event. Located in Orlando, Florida, and taking place from April 9 thru 11, Harper representatives will be ready and eager to share the company's specially developed, cutting-edge products and technical expertise with members of the industry. Representatives from Harper Corporation will be located at booth #1051.
During this event, attendees will have the opportunity to speak with members of the Harper team regarding the products and services that the company has to offer. This includes the newly launched HEX division, as well as Harper's HIVE (high imaging volume engravings) series of anilox rolls, including LaserKote™ and XLT™ engravings. The product line that makes up the HEX division encompasses plate sleeves and bridge sleeves. Both are in compliance with OEM specifications pertaining to secondary air supply and offer multiple notable features, including a patent-pending replacement notch system with several notch designs.
Professionals from HarperScientific, the pressroom supply division of Harper Corporation of America, will be present to explain the complete product line and will display the popular Phantom QD™ ink proofing system. A versatile flat bed ink proofing system that helps pressrooms streamline efficiency through repeatability, the easy to operate technology has truly revolutionized the flexographic industry—without compromising affordability.
For more information, please contact Jazmin Cordero at 704-588-3371, ext. 4292, or jcordero@harperimage.com.
Quality Care and Maintenance
Supplies for Your Pressroom
Keep your pressroom running smoothly with HarperScientific's variety of care and maintenance supplies. Our comprehensive line includes ink proofers like our patented QD™ proofer for color matching, press washes, solvents, plate cleaners, and brushes. Trust us to provide the high-quality supplies your pressroom needs. Shop now.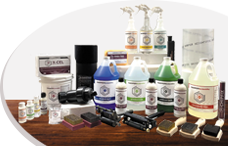 Visit Our Shopping Cart