Harper Corporation of America Featured on Local Television Show
Charlotte, North Carolina, February 25, 2013—Global anilox roll supplier Harper Corporation of America has built a reputation as a company that encourages professional development, education, and a strong sense of community. In recognition of its support of these values, Harper Corporation will be involved in an upcoming episode of "Inside Jobs." The segment featuring members of the Harper team will air on Thursday, February 28, 2013 at 9:00 pm EST on WTVI-PBS Charlotte.
The segment will focus on an interview with Vice President of Operations Lee Kluttz and conversations with Natalie Yesayan and Jeff Leazer, who are both graduates of Central Piedmont Community College (CPCC). This program focuses on companies that hire graduates from CPCC and has recognized Harper Corporation's dedication to encouraging its professionals to attend this educational institution to further their understanding of their industry and to hone the skills they use to thrive in the flexographic field.
The team at Harper Corporation of America is proud to support CPCC and to hire graduates of this highly regarded college. Harper Corporation encourages interested individuals to tune in to the show.
For more information, please contact Jazmin Cordero at 704-588-3371, ext. 4292, or jcordero@harperimage.com.
Quality Care and Maintenance
Supplies for Your Pressroom
Keep your pressroom running smoothly with HarperScientific's variety of care and maintenance supplies. Our comprehensive line includes ink proofers like our patented QD™ proofer for color matching, press washes, solvents, plate cleaners, and brushes. Trust us to provide the high-quality supplies your pressroom needs. Shop now.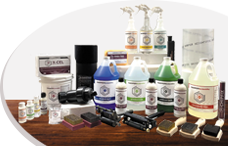 Visit Our Shopping Cart