Harper Corporation of America Participates in Integrated Demo at FlexTech 2014 Conference
Charlotte, North Carolina, March 18, 2013—Harper Corporation of America, a leading global anilox roll and ink lab equipment supplier, is proud to announce its role in a successful integrated demonstration at the 2014 Flexible & Printed Electronics Conference and Exhibition. Held February 4-6 in Phoenix, Arizona, this event brought together more than 100 presenters and 600 attendees from all facets of the industry to discuss and explore the latest advances in this growing industry.
Flexible, printed electronics are an area where state-of-the-art systems are creating new possibilities. Harper Corporation was honored to play a key role in a real-time demonstration that walked attendees through the critical process steps in the printed electronics workflow. This massive undertaking was the result of collaborative efforts between multiple companies and universities within the field, each contributing different materials, components, and expertise.
For its part, Harper Corporation of America provided a QD™ Flatbed mobile flexo printer and built the required processing head for flexo printing. The equipment was positioned at the Cal-Poly and Clemson Universities' booth and was operated by the students. Components and materials were delivered from across the country and assembled at the conference to produce a seamless working processing line down a single aisle at the conference, resulting in the production of conductive printed and cured electronics samples. This process was well received and attracted attention from many interested attendees.
In addition to participating with the integrated demonstration, a Harper representative also spoke in a session to explain how flexo and gravure processes could be used in a laboratory setting for the printed electronics industry.
The Harper Corporation is proud to have played an integral role in this process and looks forward to attending the 2015 Flex Conference in Monterey, California.
For more information, please contact Jazmin Cordero at 704-588-3371, ext. 4292, or jcordero@harperimage.com.
Quality Care and Maintenance
Supplies for Your Pressroom
Keep your pressroom running smoothly with HarperScientific's variety of care and maintenance supplies. Our comprehensive line includes ink proofers like our patented QD™ proofer for color matching, press washes, solvents, plate cleaners, and brushes. Trust us to provide the high-quality supplies your pressroom needs. Shop now.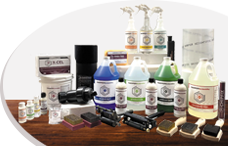 Visit Our Shopping Cart