Harper Corporation of America Welcomes Shawn Oetjen as Midwest Technical Graphic Advisor
Charlotte, North Carolina, April 29, 2014—Global anilox roll supplier Harper Corporation of America is excited to welcome Shawn Oetjen as the newest member of its team. He joins Harper Corporation as a member of the Harper GraphicSolutions Division and will serve as the Midwest Technical Graphics Advisor, providing technical support to customers located in this area.
Oetjen brings with him a wealth of knowledge and experience from working in various capacities within the flexographic industry. He has held different positions in the production and sales environment for both the Narrow and Wide Web industries. In addition, he was a driving force in the flexographic program at Dunwoody College, where he served as the Senior Flexographic Instructor.
Throughout his career, Oetjen has been active in various industry committees and acquired a keen knowledge and understanding of the flexographic process. He earned his Associate of Applied Science in graphics and printing technologies from Dunwoody College, Minneapolis, Minnesota, as well as his Bachelor of Science in graphic communications from Clemson University, Clemson, South Carolina.
Shawn Oetjen's leadership skills, knowledge, and positive attitude will contribute well to the HGS team, and Harper Corporation of America is proud to welcome him as its newest member.
For more information, please contact Jazmin Cordero at 704-588-3371, ext. 4292, or jcordero@harperimage.com.
Quality Care and Maintenance
Supplies for Your Pressroom
Keep your pressroom running smoothly with HarperScientific's variety of care and maintenance supplies. Our comprehensive line includes ink proofers like our patented QD™ proofer for color matching, press washes, solvents, plate cleaners, and brushes. Trust us to provide the high-quality supplies your pressroom needs. Shop now.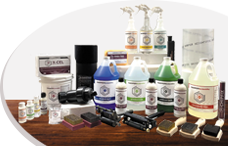 Visit Our Shopping Cart