Harper Corporation of America Will Attend EFIA Print Awards 2014
Charlotte, North Carolina, March 11, 2014— Global anilox roll supplier Harper Corporation of America will attend the 2014 European Flexographic Industry Association (EFIA) Print Awards. The event recognizes excellence in flexographic printing processes in a variety of areas and attracts participants and attendees from segments around the world interested in the latest technology and capabilities.
The awards will focus on two different categories: line/screen printing and process. Companies had the opportunity to enter their prints in multiple classes within these categories including flexo print on paper, flexo print on film, corrugated post print, and post print on folder gluers. Prints are judged by an expert panel that will assess overall execution and degree of difficulty.
In addition, organizations can win awards for manufacturing efficiency, outstanding technical innovation, repro company of the year, supplier of the year, and customer excellence, among others. This event is an opportunity for professionals within the flexographic industry to come together and share their best work and creative ideas and network with others.
Alan Rogers, VP of Sales for Harper Corporation of America will be onsite to answer any questions about Harper's latest products and technologies. The EFIA Print Awards will be held March 20, 2014, at the Reebok Stadium in Bolton, United Kingdom.
For more information, please contact Jazmin Cordero at 704-588-3371, ext. 4292, or jcordero@harperimage.com.
Quality Care and Maintenance
Supplies for Your Pressroom
Keep your pressroom running smoothly with HarperScientific's variety of care and maintenance supplies. Our comprehensive line includes ink proofers like our patented QD™ proofer for color matching, press washes, solvents, plate cleaners, and brushes. Trust us to provide the high-quality supplies your pressroom needs. Shop now.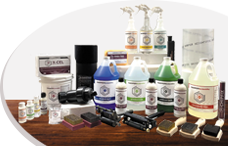 Visit Our Shopping Cart