Harper Roadshow At Nilpeter Campus In Cincinnati Draws Huge Turnout
Charlotte, NC, April 1, 2011– Well over 100 people participated in the free, day-long seminar hosted by Cincinnati's Nilpeter USA and sponsored by global anilox roll supplier Harper Corporation. The March 24 stop was the second of eight Harper Roadshows scheduled this year around the country.
Opening the seminar, Bill Malm, Midwest/West Coast Technical Graphic Advisor for Harper, outlined how pressroom standardization offers operators the surest way to eliminate variables and ensure predictable results.
Mike Potter of Flexo Wash followed, focusing on advanced anilox and plate cleaning techniques for today's environment. Doug Weiss of Kodak gave his views on raising the bar in production. Tesa Tape's Joe Prunier closed the morning session with his analysis of the role sticky back tape plays in process improvement.
After a complimentary lunch, Kurt Hudson of Actega/WIT provided insights on the strengths and benefits of flexographic printing. Pacur's Andrew Rodwin discussed techniques for successful lenticular printing on the Nilpeter press. That session served as a perfect lead-in to a 75-minute Nilpeter press demonstration for attendees.
"Nilpeter was delighted to have the opportunity to partner with Harper Corporation for the 2011 Road Show in our technology center in Cincinnati," said Tom Clawson, Nilpeter Senior Sales Representative. "We were extremely pleased with the response of more than 100 converters and suppliers attending."
Clawson said the seminar fills an industry need. "These educational sessions are vital in helping converters improve their company operations and press room efficiencies – impacting their overall profitability. Because Nilpeter is also a solutions provider, these events are a perfect fit," he said.
For more information, please contact Jazmin Kluttz at 704-588-3371 orjkluttz@harperimage.com
Quality Care and Maintenance
Supplies for Your Pressroom
Keep your pressroom running smoothly with HarperScientific's variety of care and maintenance supplies. Our comprehensive line includes ink proofers like our patented QD™ proofer for color matching, press washes, solvents, plate cleaners, and brushes. Trust us to provide the high-quality supplies your pressroom needs. Shop now.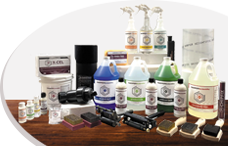 Visit Our Shopping Cart