Harper To Showcase Anilox Products At Booth 401 During 2010 LabelExpo Show
Charlotte, NC, September 1, 2010 – Graphic experts from global anilox supplier Harper Corporation will greet visitors and answer questions at Booth 401 during the upcoming LabelExpo Americas 2010 show in Chicago.
"Technology to the Rescue" is the theme for LabelExpo, set for September 14-16 at the Donald E. Stephens Convention Center in suburban Rosemont, IL. In addition to 23 conference sessions, this year's show will feature 400 exhibiting vendors, numerous technology workshops and a three-hour digital printing master class.
Highlighting the booth will be a display of various products for anilox care and maintenance and the company's patent pending Phantom QD™ family of advanced proofing systems. Visitors will see a just released motorized model from HarperScientific™, the firm's printing and coating supplies division.
The Harper team will deliver briefings on how Harper programs, services, surface technology and engravings can enhance efficient print repeatability and improve profitability. In addition to contracted programs, Harper's GraphicSolutions™ division offers branded roll trial support, print sample evaluations, WalkingSeminars™, in-house training seminars, graphic team meetings and more. The company's customized programs routinely deliver a return on investment in just six months.
Hour-long presentations during LabelExpo will focus on a range of labeling and printing issues. The agenda includes sessions on advances in branding and brand protection, color management, label life cycle and sustainability, digital web-fed printing advances and extended gamut printing.

For further information, please contact Jazmin Kluttz at 704-588-3371 or jkluttz@harperimage.com
Quality Care and Maintenance
Supplies for Your Pressroom
Keep your pressroom running smoothly with HarperScientific's variety of care and maintenance supplies. Our comprehensive line includes ink proofers like our patented QD™ proofer for color matching, press washes, solvents, plate cleaners, and brushes. Trust us to provide the high-quality supplies your pressroom needs. Shop now.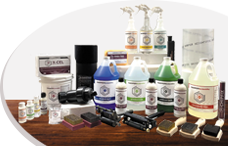 Visit Our Shopping Cart