Harperscientific™ Introduces Sleevewrak™ Double-Decker Rack
Charlotte, N.C., May 17, 2007 - HarperScientific™, the printing and coating supplies division of global anilox supplier Harper Corporation of America, is pleased to introduce SleeveWrak™ Double-Decker Rack, a unique, two-tiered vertical storage unit for narrow web anilox and/or plate sleeves up to 30 inches in length.
"We've developed the SleeveWrak Double-Decker Rack to minimize sleeve damage, accommodate both anilox and plate sleeves, and maximize storage convenience," said Tony Donato, Process & Product Development Engineer at Harper Corporation.
"Each sleeve is held in position by a pair of specially designed guides and stored vertically, which minimizes compression of the expansion layer of the sleeve. The rack also features a built-in rubber belt that supports the bottom end of the sleeve and keeps the ends from becoming damaged or chipped. Heavy-duty casters mean that the sleeve inventory can be moved over to the press quickly and easily."
In addition to the flexibility of storing both anilox and plate sleeves, each rack, which comes standard with 32 pairs of adjustable guides, can accommodate up to 50 narrow web anilox and/or plate sleeves with the addition of further guides.
The rack's adjustable guides can be moved along a built-in track, which allows for the storage of any "repeat" of plate sleeves. The bottom guide assemblies are designed with universality in mind, so each storage station accommodates either an anilox or plate sleeve: Anilox sleeves rest around the lower, larger diameter of the guide, and the smaller round guide that sits atop it accommodates a plate cylinder.
The SleeveWrak Double-Decker Rack is designed for easy loading from either side of the unit: While holding the sleeve vertically, simply tilt the top of the sleeve into the rack and lift it so the upper guide slips into the bore of the sleeve. Once the bottom of the sleeve is high enough to clear the bottom guide, center the sleeve over the bottom guide and lower until it rests flat.
The SleeveWrak Double-Decker Rack is available exclusively through HarperScientific (www.HarperScientific.com ).
HarperScientific is the manufacturer of CeramClean II™ and CeramClean SOLV-IT™ anilox cleaners, a wide variety of flexographic and gravure hand-proofing systems, and DuroSeal™ chamber blade end seals. For mid-web and wide web sleeves larger than 30 inches in length, see www.HarperScientific.com for the original SleeveWrak™.
For further information, please contact Jazmin Kluttz at 704-588-3371 or jkluttz@harperimage.com.
Quality Care and Maintenance
Supplies for Your Pressroom
Keep your pressroom running smoothly with HarperScientific's variety of care and maintenance supplies. Our comprehensive line includes ink proofers like our patented QD™ proofer for color matching, press washes, solvents, plate cleaners, and brushes. Trust us to provide the high-quality supplies your pressroom needs. Shop now.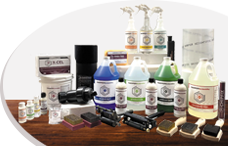 Visit Our Shopping Cart