Midwest Converters Golf Outing Benefits Phoenix Challenge
Charlotte, N.C., August 4, 2009 - Global anilox supplier Harper Corporation of America is proud to announce that the fifth annual Midwest Converters Golf Outing, a tournament coordinated each year by All Printing Resources and Harper Corporation, raised nearly $1,000 for the Phoenix Challenge Foundation. The tournament, took place on June 22nd at The Royal St Patrick's golf course in Wrightstown, Wisc.
According to Neil Surber, National Sales Manager for Harper Corporation, "One hundred-twenty golfers attended and everyone had a great time. The course was in excellent condition and the service was even better. We were lucky again this year as the weather was perfect. However, the best part of the event is getting together with converters and suppliers to enjoy a day of friendship and camaraderie."
In addition to providing a great time for all, the event included a challenge hole to benefit the Phoenix Challenge. The challenge was a par three with a 20-foot circle around the hole.
Surber added, "The group was honored to donate $952. I guess The Phoenix Challenge should feel lucky we are not all excellent golfers!"
All Printing Resources and The Flint Group graciously provided lunch. Many course prizes and door prizes were awarded, but the grand prize went to Pat Marquart, Beecher Skinner, Dana Standefer and Tim Allen. The foursome shot 11 under par and was awarded first place.
Sponsors included: All Printing Resources: Steve Van Dyke and Kevin Snyder; Ashland Chemical: Veronica Reichert and Jim Ditomas; Electro Optic US: David Brewer; Environmental Inks and Coatings: Bill Phillips; Flexo Wash LLC: Michael Potter; Flint Group: Tom Spiegel; Flxon: Kris Harris; Harper Corporation of America: Neil Surber, Ken Jones, Dana Standefer and Mike Huey; Interactive Inks and Coatings: Mike McIntyre; Interactive Inks and Coatings: Bernie Pagels Jr.; Lohmann Tech: Stan Riches; Mark Andy: Steve Schulte; Nazdar: Mike Harjung; PCMC: Andy Gillis; Premier Ink Systems: Donz Dye and Marcus Tyree; Press Color: Dennis Curtin; Rossini NA: Bob Grace; Southern Graphics: Bill Hartel and Rick Wendt; SunChemical: Mike Belifuss, Randy Reichardt and Gordon Cole; The Provident Group: Tim Allen; Water Ink Tech: Steve Strassman.
For further information, please contact Jazmin Kluttz at 704-588-3371 or jkluttz@harperimage.com.
Quality Care and Maintenance
Supplies for Your Pressroom
Keep your pressroom running smoothly with HarperScientific's variety of care and maintenance supplies. Our comprehensive line includes ink proofers like our patented QD™ proofer for color matching, press washes, solvents, plate cleaners, and brushes. Trust us to provide the high-quality supplies your pressroom needs. Shop now.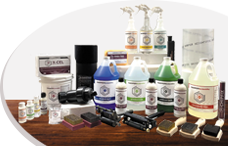 Visit Our Shopping Cart