Nearly 100 Attend Harper's Flexographic Solutions Seminar at Fullerton College
Charlotte, NC, June 25, 2010– An enthusiastic turnout of nearly 100 printing industry professionals attended the Harper Flexographic Solutions seminar June 9 near Los Angeles at Fullerton College. Organized by Harper GraphicSolutions™, the technical services division of global anilox supplier Harper Corporation, the event was the only West Coast stop on the 2010 six-city tour.
Founded in 1913, Fullerton College is the oldest community college in continuous operation in California. It enrolls more than 19,000 students and boasts a full-time and adjunct faculty of nearly 900. The school's curricula range from transfer-level courses to career certification programs. The seminar was coordinated through the Center for Applied Competitive Technologies in partnership with the school's Printing Technology Program.
The free day-long seminar opened with an in-depth presentation on pressroom standardization delivered by Bill Malm, Technical Graphic Advisor at Harper GraphicSolutions™.
After Malm's remarks, attendees were briefed on the quality and productivity benefits of using mounting tape with flexographic plates. The morning session ended with a review of surface tension and ink adhesion principles and a discussion of the best available options for cleaning anilox rollers.
The afternoon session featured presentations on leak-free clean printing stations and procedures for improving plate room process control procedures. Seminar participants also enjoyed a complimentary lunch.
"Large audiences showing a high level of interest have been the rule at our flexographic solutions tour sites this year and the Fullerton College event was no exception," Malm said. "Yes, printing pros are dealing with challenging business conditions. But they continue to respond enthusiastically to new ideas that help them improve quality and enhance the efficiency of their operations."
For further information, please contact Jazmin Kluttz at 704-588-3371 or jkluttz@harperimage.com
Quality Care and Maintenance
Supplies for Your Pressroom
Keep your pressroom running smoothly with HarperScientific's variety of care and maintenance supplies. Our comprehensive line includes ink proofers like our patented QD™ proofer for color matching, press washes, solvents, plate cleaners, and brushes. Trust us to provide the high-quality supplies your pressroom needs. Shop now.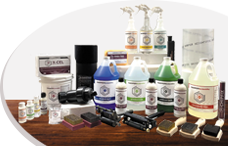 Visit Our Shopping Cart