Phoenix Challenge Foundation Invites You to Media Day at the Annual International Phoenix Challenge High School Flexo Competition
Charlotte, N.C., March 07, 2007
Dear Media Friend,
Please mark Friday, March 30 on your calendar and plan to join us for a Media Day to celebrate the 10th anniversary of the Phoenix Challenge Foundation.
DATE: Friday March 30, 2007 EVENT: Media Day, 10th Anniversary Celebration and Banquet
WHERE: Harper Campus, Central Piedmont Community College, Charlotte, NC
TIME: 11 a.m. - 12 p.m. (Complimentary lunch included)
As a guest the Phoenix Challenge Foundation, you will be invited to participate in and learn about a variety of exciting events:
1 - 10th Annual International Phoenix Challenge High School Flexo Competition. " Get the inside scoop as you walk through the actual competition and experience the enthusiasm, determination and tenacity of the students competing for the top awards. The gravity and magnitude of this competition may surprise you. " Talk with the flexographic high school instructors from across North America, and interview Mark Cisternino, president of the Flexographic Technical Association, to learn more about the benefits of this important program that educates and trains tomorrow's flexographers.
2 - PC College " Dr. Robin Williams of Appalachian State University and I will provide a progress report on the development of a Phoenix Challenge Competition designed for college and university students. It's a bright new idea from which the entire industry can immediately benefit.
3 - Katherine Harper's wonderful new autobiography, The Longer I Live, The More I Learn " Learn about the new autobiography from the former president of Harper Corporation, where she documents more than three decades of the female flexo professional's perspective on the rise of flexography. Mrs. Harper is generously donating the proceeds from the sale of this book to the Phoenix Challenge Foundation.
4 - Central Piedmont Community College's (CPCC) Continuing Education Series for Flexo Professionals " Steve Gerhardt, Harper National Flexographic Center Coordinator at CPCC, will provide an update on the college's special efforts to provide advanced flexo training and education for those already employed in the industry, as well as to students attending CPCC.
5 - 10th Anniversary Phoenix Challenge Foundation Awards Banquet " You are invited to be our guest at the Friday evening awards banquet, where you'll learn about the rich history and unique success of the Phoenix Challenge Foundation, and feel the electricity and anticipation when the 2007 scholarship winners are announced!
Please RSVP by March 23 via telephone at 704-309-3748 or email at bkrafft@carolina.rr.com. We look forward to seeing you!
Sincerely,
Bettylyn Krafft,
Chairman The Phoenix Challenge Foundation
--------------------------------------------
About the Phoenix Challenge Foundation
Founded in 1998, the Phoenix Challenge Foundation is an all-volunteer not-for-profit organization of industry professionals dedicated to the recruitment and development of the future workforce of flexography. Each year, flexo high school students and teachers from throughout the U.S. and Canada are invited to the Phoenix Challenge, a two-day skill-based competition with hands-on and written testing in operating a flexo press, prepress, plate-making, and overall flexo knowledge. Winners are eligible for scholarships funded by the Phoenix Challenge Foundation. To date, $21,000 in scholarships has been awarded to encourage students to pursue further education and a career in flexography.
For additional information, please visit www.phoenixchallenge.org .
The Phoenix Challenge Foundation - 6805 Pleasant Grove Road, Waxhaw, NC 28173
For further information, please contact Jazmin Kluttz at 704-588-3371 or jkluttz@harperimage.com.
Quality Care and Maintenance
Supplies for Your Pressroom
Keep your pressroom running smoothly with HarperScientific's variety of care and maintenance supplies. Our comprehensive line includes ink proofers like our patented QD™ proofer for color matching, press washes, solvents, plate cleaners, and brushes. Trust us to provide the high-quality supplies your pressroom needs. Shop now.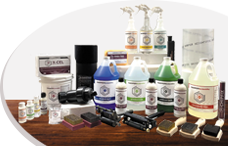 Visit Our Shopping Cart