Continuing Education Seen as Essential for All Levels of Harper Employees
Charlotte, N.C., October 5, 2009 - Participation by a group of Harper manufacturing employees in a local college course on flexographic printing concepts reflects an ongoing appreciation for how education advances technology. That's how one executive at the global supplier of anilox roll technology sees it.
Margie Kluttz, President of Harper Corporation of America, said the company's support of four employees attending a course on the concepts of flexo printing signals how much Harper values workers and encourages initiative. "At the core of our ability to break new ground in anilox roll manufacturing and service is a commitment to expanding the knowledge base of our employees at every level," Kluttz said. "Understanding our industry - where we are and where we're going - is an essential part of success both as individual employees and as a company."
Offered through Fox Valley Technical College, the course on flexographic concepts presents an overview that addresses all aspects of the flexo printing process - from basic concept to a printed product. The small size of the class maximizes hands-on training opportunities for students.
In addition, class members are briefed about the different types of flexo processes and the wide variety of finished products. Other class topics include how to output film and make plates, substrates and safety issues, procedures for setting up, registering and printing two- and four-color jobs and the proper steps for cleanup and storage of inks, paper and equipment.
For further information, please contact Jazmin Kluttz at 704-588-3371 or jkluttz@harperimage.com.
Quality Care and Maintenance
Supplies for Your Pressroom
Keep your pressroom running smoothly with HarperScientific's variety of care and maintenance supplies. Our comprehensive line includes ink proofers like our patented QD™ proofer for color matching, press washes, solvents, plate cleaners, and brushes. Trust us to provide the high-quality supplies your pressroom needs. Shop now.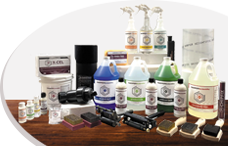 Visit Our Shopping Cart