HGS Welcomes New Southeast Technical Graphics Advisor
Charlotte, N.C., March 20, 2008 - Harper GraphicSolutions™, the technical service division of global anilox supplier Harper Corporation of America, is pleased to announce the addition of Paul Teachout to its team as Southeast Technical Graphics Advisor.
Teachout joins the group that implements Harper's lasting service commitment to its customers. He will consult on technical solutions, as well as on maximizing operations efficiency. Companies will benefit from his experience in both the wide and narrow web industries.
"It is an honor to be working with the Harper GraphicSolutions technical team. From the WalkingSeminar™ program to on-going and in-depth technical training, I have always felt that there is no company with more advanced offerings, and I am excited to be another resource for Harper's customers," said Teachout.
"Paul is yet another example of our efforts to maintain a technical service team that is second to none. His experience, personality, and commitment to excellence are wonderful complements to the Harper team. We could not be happier to welcome him into our family," said Alexander James, Technical Graphics Manager, Eastern Division of Harper GraphicSolutions.
For further information, please contact Jazmin Kluttz at 704-588-3371 or jkluttz@harperimage.com.
Quality Care and Maintenance
Supplies for Your Pressroom
Keep your pressroom running smoothly with HarperScientific's variety of care and maintenance supplies. Our comprehensive line includes ink proofers like our patented QD™ proofer for color matching, press washes, solvents, plate cleaners, and brushes. Trust us to provide the high-quality supplies your pressroom needs. Shop now.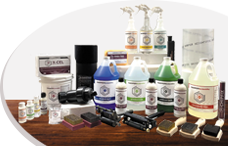 Visit Our Shopping Cart