Harper Corporation Welcomes Andre Jochheim
Charlotte, N.C., April 7, 2009 - Global anilox supplier Harper Corporation is pleased to welcome Andre Jochheim to the United States this month for technical training. Jochheim is a new team member at Harper Graphics, Harper Corporation's licensed affiliate in Germany.
"With his formal education in flexography and experience with both wide and narrow web applications, we are thrilled to welcome Andre to the Harper family," said Alexander James, Technical Graphics Manager, Eastern Division of Harper GraphicSolutions™.
In his new position, Jochheim will visit Harper Graphics customers onsite to offer technical solutions for a variety of printing challenges. His training time in the U.S. will take place both in the field with Harper GraphicSolutions technicians as well as at Harper Corporation's headquarters in Charlotte, NC.
Harper GraphicSolutions, the technical service division of global anilox supplier Harper Corporation of America, provides solutions that help Harper customers overcome print limitations, increase process efficiencies and achieve the highest levels of quality and profitability. At the forefront of the latest flexo technologies and techniques, the group is designed to work as an extension of the customer's team.
For further information, please contact Jazmin Kluttz at 704-588-3371 or jkluttz@harperimage.com.
Quality Care and Maintenance
Supplies for Your Pressroom
Keep your pressroom running smoothly with HarperScientific's variety of care and maintenance supplies. Our comprehensive line includes ink proofers like our patented QD™ proofer for color matching, press washes, solvents, plate cleaners, and brushes. Trust us to provide the high-quality supplies your pressroom needs. Shop now.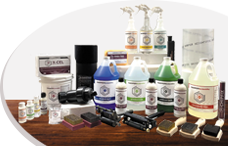 Visit Our Shopping Cart