Harper Corporation of America Announces Next Stop on SMART Tour
Charlotte, North Carolina, April 22, 2013—The first stop on the 2013 Harper SMART Roadshow, hosted by global anilox roll supplier Harper Corporation of America, was held at Mark Andy Incorporated on March 27. This successful event provided attendees with the opportunity to explore the latest of the Harper team's products and services, as well as the most recent information from selected co-suppliers. Now, the organization is turning its attention to the second stop on its 2013 tour, which will be held at Central Piedmont Community College in Charlotte, North Carolina, on Thursday May 16, 2013.
The chosen theme for this year's tour is "Showcasing Modern Anilox Roll Technology," or SMART. The Charlotte stop will be co-hosted with Bobst and will provide participants with valuable insight regarding the flexographic industry's leading products and services.
Following opening comments by Alan Rogers, the vice president of sales at Harper Corporation, the event will allow industry professionals from leading companies to present and share their expertise and knowledge with attendees. Individuals from Harper Corporation, FTA, Sun Chemical, Flexo Wash, DuPont, Bobst, and Flexo Concepts will present sessions targeted at relevant industry topics, such as FTA certification, high-speed inks, anilox and plate cleaning, plate technology, wide-web press technology, doctor blades, and the new HEX division at Harper Corporation. Following these presentations, Stephen Gerhardt of Central Piedmont Community College will give a tour of the campus and its flexographic program, which is well-known for its ability to train students who become highly successful professionals in this field.
While there is no cost to attend the 2013 Harper SMART Roadshow, space is limited and interested individuals are encouraged to register as soon as possible.
For more information, please contact Jazmin Cordero at 704-588-3371, ext. 4292, or jcordero@harperimage.com.
Quality Care and Maintenance
Supplies for Your Pressroom
Keep your pressroom running smoothly with HarperScientific's variety of care and maintenance supplies. Our comprehensive line includes ink proofers like our patented QD™ proofer for color matching, press washes, solvents, plate cleaners, and brushes. Trust us to provide the high-quality supplies your pressroom needs. Shop now.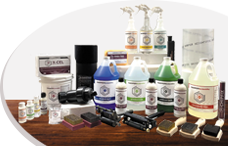 Visit Our Shopping Cart