Harper Corporation of America Celebrates Success at Labelexpo Americas 2016
Charlotte, North Carolina, October 10, 2016—Global anilox roll supplier Harper Corporation of America celebrates a wonderful turnout at the recent Labelexpo Americas 2016, held September 13-15 at the Donald E. Stephens Convention Center in Rosemont, Illinois. This three-day event featured demonstrations, exhibitions, and networking opportunities which showcased some of the latest technology and developments in the label and package printing industry.
Harper unveiled its Harper Express Program, which boasts the fastest anilox delivery time in the industry for popular narrow web presses. Representatives were on hand to discuss the details of the program as well as demonstrate some of Harper's latest advanced technology, including the HIVE (High Imaging Volume Engravings) engravings series, the award-winning patented QD™ ink proofing and flatbed printing system, the QD™ Printer, a variety of plate and bridge sleeves from Harper's HEX division, and the new RTV sleeve to color code anilox sleeve inventory.
A highlight of the show is always the QD™ ink proofing and flatbed printing system, which has become the color-matching proofer of choice by many leading ink manufacturers. Improved printing technology and accessories reduce the amount of expensive materials needed to test printed electronic concepts, and expanded engraving geometries and volumes on the proofers accommodate differing deposit properties of functional inks.
The QD™ Printer was a hit with its programmable travel speeds that can be adjusted to inches or centimeters and for maximum speeds of 1000 in/minute or 2500 cm/minute. In addition, attendees learned more about Harper's HEX division line of plate and bridge sleeves which provide an effective way of decreasing downtime and make ready.
Another popular line is the HIVE engravings series, which now includes Harper's patent-pending Cladless Anilox Sleeve Technology featuring no aluminum cladding, lighter weight, and corrosion resistance. The HIVE line offers high levels of print quality and predictability with exclusive print performance.
Labelexpo Americas 2016 attracted professionals from throughout the world eager to explore the advanced technology emerging in the label and package printing industry. Visitors from around the world stopped by the Harper booth to view demonstrations of its latest technology, ask questions, and get more information about how their businesses could benefit. Harper Corporation of America is proud to have been part of such a successful event and looks forward to future opportunities to share it products and insight.
For more information, please contact Jazmin Siancas at 704-588-3371, ext. 4292, or jsiancas@harperimage.com.
Quality Care and Maintenance
Supplies for Your Pressroom
Keep your pressroom running smoothly with HarperScientific's variety of care and maintenance supplies. Our comprehensive line includes ink proofers like our patented QD™ proofer for color matching, press washes, solvents, plate cleaners, and brushes. Trust us to provide the high-quality supplies your pressroom needs. Shop now.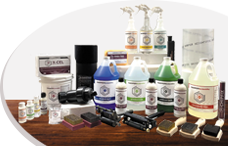 Visit Our Shopping Cart