Harper Corporation of America Earns Air Compliance Excellence Award
Charlotte, North Carolina, September 11, 2017—Global anilox roll supplier Harper Corporation of America is proud to announce that it has earned the Air Compliance Excellence (ACE) award from Mecklenburg County Air Quality (MCAQ) for its continued compliance and commitment toward reducing pollution and improving local air quality.
Over the past year, Harper was in compliance with all terms of its air quality permit. There were no violations for dust or odor complaints, required emissions testing was completed, and reports, notifications, and fee payments were all submitted on time. In addition, the company was in compliance during its annual inspection.
"We take our environment, safety, and health of our employees very seriously," says Harper Corporation of America President Lee Kluttz. "We are so proud to be honored with this award, and we couldn't do it without the continued dedication of our employees."
Harper Corporation of America will continue to work hard doing its part to protect the environment and improve air quality in Mecklenburg County.
For more information, please contact Jazmin Siancas at 704-588-3371, ext. 4292, or jsiancas@harperimage.com.
Quality Care and Maintenance
Supplies for Your Pressroom
Keep your pressroom running smoothly with HarperScientific's variety of care and maintenance supplies. Our comprehensive line includes ink proofers like our patented QD™ proofer for color matching, press washes, solvents, plate cleaners, and brushes. Trust us to provide the high-quality supplies your pressroom needs. Shop now.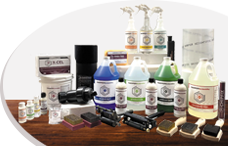 Visit Our Shopping Cart