Harper Corporation of America Hosts IPADE Business School Representatives
Charlotte, North Carolina, January 16, 2015—Global anilox roll supplier Harper Corporation of America aims to stay on the cutting edge in the flexographic industry and integrates innovative concepts to continually advance its services and technology. On October 28, 2014, Harper was fortunate to be able to share this forward-thinking insight with a five-member team from the IPADE Business School in Mexico.
IPADE's innovation program, innovAD, provides top management professionals with the opportunity to engage in hands-on learning by visiting companies throughout the United States and Mexico recognized for their focus on innovation. Teams travel to destinations such as Guadalajara, Mexico DF, Monterrey, and Queretaro in Mexico, and Austin, Boston, Houston, North Carolina, San Diego, and the Silicon Valley in the United States. They meet with companies, business professionals, or organizations that stand out for their use of innovation to drive business value, growth, and success.
Harper Corporation of America is honored to have been chosen as a business recognized for its integration of innovation into business models and daily activities. Lee Kluttz, VP of Operations, and Juan Bermudez, VP of Latin American Sales, shared their insight and demonstrated how these forward-thinking ideas have changed business and positioned Harper as a leader within the industry.
For more information, please contact Jazmin Cordero at 704-588-3371, ext. 4292, or jcordero@harperimage.com.
Quality Care and Maintenance
Supplies for Your Pressroom
Keep your pressroom running smoothly with HarperScientific's variety of care and maintenance supplies. Our comprehensive line includes ink proofers like our patented QD™ proofer for color matching, press washes, solvents, plate cleaners, and brushes. Trust us to provide the high-quality supplies your pressroom needs. Shop now.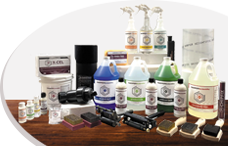 Visit Our Shopping Cart