Harper Corporation of America Shares Industry Insight at AIMCAL Web Coating & Handling Conference 2012
Charlotte, North Carolina, November 19, 2012—A frequent participant at industry events, global anilox roll supplier Harper Corporation of America presented a tabletop exhibition at the Association of International Metallizers, Coaters, and Laminators (AIMCAL) Web Coating & Handling Conference. Held October 21 – 24 in Myrtle Beach, South Carolina, this event provided industry professionals with the opportunity to learn more about the technology, operational processes, and products that drive the coating and metalizing industry.
At the Harper Corporation tabletop, company representatives were on site to answer any questions that event attendees had about the organization's latest products, developments, and anilox engraving technologies, including the LaserKote™ family of "coating specific" engravings. In addition to providing information, Harper Corporation's representatives displayed the company's innovative Phantom QD™ ink proofing system. Visitors to the booth were able to see this cutting-edge technology in action while learning more about how Harper Corporation provides the products and services upon which leading industry professionals rely.
"We appreciate the opportunity to share our expertise at AIMCAL's Web Coating & Handling Conference," comments Vice President of Sales Alan Rogers. "The Harper team dedicates its time, energy, and resources to creating the technology that our clients need for their businesses to thrive. As such, we are always honored to be afforded the opportunity to attend industry events."
In addition to the insight provided at Harper Corporation's tabletop, the conference offered attendees the chance to participate in short courses, receptions, and networking opportunities, as well as other activities. Harper Corporation of America thanks AIMCAL for hosting such an exceptional industry event.
For more information, please contact Jazmin Kluttz at 704-588-3371, ext. 4292, or jkluttz@harperimage.com.
Quality Care and Maintenance
Supplies for Your Pressroom
Keep your pressroom running smoothly with HarperScientific's variety of care and maintenance supplies. Our comprehensive line includes ink proofers like our patented QD™ proofer for color matching, press washes, solvents, plate cleaners, and brushes. Trust us to provide the high-quality supplies your pressroom needs. Shop now.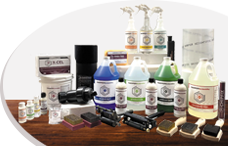 Visit Our Shopping Cart