Harper Corporation of America Sponsors First Annual CFTC Scholarship Golf Tournament
Charlotte, North Carolina, August 5, 2013—A noted supporter of education, global anilox roll supplier Harper Corporation of America is sponsoring the first annual Canadian Flexographic Training Committee (CFTC) Scholarship Golf Tournament, which will be held on Monday, September 23.
The CFTC has long spearheaded the Roll Label Golf Tournament and has created a network of supporters through this important industry event; however, the organization has recently shifted its focus to the provision of scholarships in order to attract new professionals to the flexographic field. The Canadian Printing Industries Association Scholarship Trust Fund has been established and, currently, offers $1,250 each year to the student who receives the financial aid. The goal is to increase the number of scholarships that are available to students through this organization in order to assist them in earning the high quality education they need to thrive in the flexographic field.
The first annual CFTC Scholarship Golf Tournament is a step in this direction. Though the first event of its kind, this tournament is replacing the Roll Label Golf Tournament, which the CFTC has long championed. Ultimately, the change in name, time, and purpose of the tournament are anticipated to help draw new supporters and enhance the amount of money that is available to students through the scholarship program.
Lee Kluttz, vice president of operations at Harper Corporation, is excited to sponsor this event. "We have long supported education, and have done a great deal to assist students in getting the flexographic knowledge and experience that they need to kick start a successful career," comments Kluttz. "We are looking forward to building upon our efforts with this regard via the CFTC Scholarship Golf Tournament, which we believe will serve as an important fundraiser for the industry's educational needs."
For more information, please contact Jazmin Cordero at 704-588-3371, ext. 4292, or jcordero@harperimage.com.
Quality Care and Maintenance
Supplies for Your Pressroom
Keep your pressroom running smoothly with HarperScientific's variety of care and maintenance supplies. Our comprehensive line includes ink proofers like our patented QD™ proofer for color matching, press washes, solvents, plate cleaners, and brushes. Trust us to provide the high-quality supplies your pressroom needs. Shop now.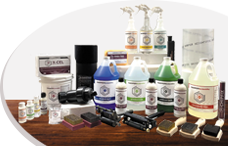 Visit Our Shopping Cart