Harper Corporation's Phantom QD™ Generates Buzz at Labelexpo Europe 2011
Charlotte, North Carolina, November 2, 2011— Harper Graphics, licensee of global anilox roll supplier Harper Corporation, exhibited the motorized Phantom QD™ Proofing System at Labelexpo Europe 2011 in Brussels, Belgium.
The Phantom QD™ motorized flatbed proofing system is a cutting-edge ink proofer, available in a Flexo or Gravure version. Harper Corporation was proud to share it and all its features with the hundreds of attendees who stopped by the booth. This ground-breaking tool generated a great deal of attention and discussion at the event.
The Phantom QD™ comes with a list of standard features, including: constant loading pressure, portability, magnetically loaded Doctor Blade, glass surface, hard coated finish, quick change anilox rollers, a solid handle without a spring, a snap-in blade holder, and interchangeable anilox and rubber rolls, among others.
Because of its innovative design and competitive price, the Phantom QD™ ink proofing system has achieved a shift in the flexographic industry. With its ease of operation and repeatability, this product has been able to change the way that industry professionals approach ink and press room efficiency.
For further information, please contact Jazmin Kluttz at 704-588-3371 or jkluttz@harperimage.com
Quality Care and Maintenance
Supplies for Your Pressroom
Keep your pressroom running smoothly with HarperScientific's variety of care and maintenance supplies. Our comprehensive line includes ink proofers like our patented QD™ proofer for color matching, press washes, solvents, plate cleaners, and brushes. Trust us to provide the high-quality supplies your pressroom needs. Shop now.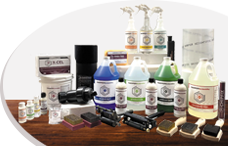 Visit Our Shopping Cart