Harper Flexographic Solutions Tour Atlanta Seminar Attracts Large Crowd
Charlotte, NC, May 26, 2010– The April 22 Atlanta seminar – part of the 2010 Harper Flexographic Solutions Tour -- attracted an impressive cross-section of industry professionals. The seminar tour is sponsored by Harper GraphicSolutions™, technical service arm of global anilox supplier Harper Corporation.
More than 100 executives, managers and craftsmen registered for the Atlanta area seminar and nearly that many came to hear presentations and watch demonstrations from Harper experts and other leading print technology firms.
Paul Teachout, Harper GraphicSolutions™ Technical Graphics Advisor, opened the day's agenda by outlining his keys to successful pressroom standardization. The morning session included discussions on maintenance of water-based flexo inks, how to create leak-free clean printing stations and ways to better care for anilox rolls.
Following the complimentary lunch, seminar attendees learned about the benefits promised by the next generation of digital plates and were briefed on ink technology and adhesion issues.
"The large turnout in Atlanta, combined with the volume of questions from the audience and the overall enthusiasm, I think, reflect an increased degree of confidence and high comfort level with today's flexo technology and what it can offer them in the future," Teachout said.
Harper is now accepting registrations for the June 9 tour stop planned for Fullerton College in suburban Los Angeles.
For more information or to register for an upcoming seminar, contact Jazmin Kluttz at 704-588-3371 or jkluttz@harperimage.com

Quality Care and Maintenance
Supplies for Your Pressroom
Keep your pressroom running smoothly with HarperScientific's variety of care and maintenance supplies. Our comprehensive line includes ink proofers like our patented QD™ proofer for color matching, press washes, solvents, plate cleaners, and brushes. Trust us to provide the high-quality supplies your pressroom needs. Shop now.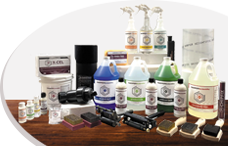 Visit Our Shopping Cart