Harper Flexographic Solutions Tour Draws Big Turnout To North Little Rock
Charlotte, NC, May 7, 2010– The inaugural April 8 stop on the 2010 Harper Flexographic Solutions Tour drew an energized turnout of 72 to North Little Rock, AR. The tour is organized by Harper GraphicSolutions™ -- technical service division of global anilox supplier Harper Corporation of America.
The next free seminar, with presentations by Harper experts, co-suppliers and other industry insiders, is set for June 9 at Fullerton College near Los Angeles. Other seminars are scheduled this summer and fall in Carol Stream, IL; Columbus, OH and Somerset, NJ.
The Arkansas session received positive reactions from attendees, including print managers and supervisors, operators, pre-press managers, graphic designers, general managers and purchasing personnel.
Sean Teufler, Technical Graphics Advisor at Harper GraphicSolutions™, delivered one of seminar's most comprehensive briefings with his presentation entitled, "A Sensible Approach to Anilox Standardization."
"Given the growing emphasis on sustainability in flexographic printing and the many options presented by recent innovations in anilox technologies, standardization has never been more important or made better bottom-line sense," Teufler said. "I think the North Little Rock audience grasped that. Their interest and questions made the event memorable."
Due to limited seating, early registration is suggested for all upcoming seminars. Please contact Jazmin Kluttz at 704-588-3371 or jkluttz@harperimage.com


Quality Care and Maintenance
Supplies for Your Pressroom
Keep your pressroom running smoothly with HarperScientific's variety of care and maintenance supplies. Our comprehensive line includes ink proofers like our patented QD™ proofer for color matching, press washes, solvents, plate cleaners, and brushes. Trust us to provide the high-quality supplies your pressroom needs. Shop now.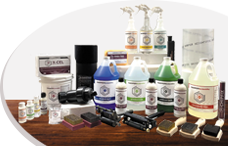 Visit Our Shopping Cart