Harper GraphicSolutions Provides Seminars on Sleeve Care
Charlotte, N.C., January 18, 2008 - Global anilox supplier Harper Corporation of America believes that an informed customer is its best customer, and a well-educated flexo industry benefits everyone. So when it comes to new technology, Harper GraphicSolutions™ (HGS), the technical service arm of Harper Corporation of America, sets out to give Harper customers the benefit of the latest information.
This was the impetus for a new type of seminar about anilox sleeves produced by Harper GraphicSolutions. The presentation initially began as a 24-slide presentation created by Bill Poulson, HGS Northeast Technical Representative, and Tony Donato, Process & Product Development Engineer. It has now evolved to almost 70 slides and a table full of training aids. Spearheaded by Alan Rogers, HGS Southeast Technical Account Manager and David Watson, HGS Southeast Technical Service Representative, the "Anilox Sleeve Presentation" has expanded into a full day of training, including an expanded question-and-answer session for customers' specific problems.
The group has presented three of the all-day sleeve seminars over the past few months: two at the company's Charlotte, N.C., headquarters and one at its Green Bay, Wisc., manufacturing facility.
According to Rogers, "There's a need for training on anilox sleeves because the care and maintenance of sleeved anilox rolls differs from journaled anilox rolls. The majority of new wide-web presses and an ever-growing number of narrow and mid-web presses installed today are sleeved presses, so it's critical that our customers are informed of the differences."
The seminar reviews basic sleeve construction, and how it differs from that of conventional journaled anilox rollers. Because sleeves are easily mounted and changed, the impact of cumulative total indicator readings (TIR) between the press mandrel and anilox sleeve is explained and demonstrated. The re-engravability differences between rolls and sleeves are examined in detail.
Speakers cover the specifics of proper sleeve handling, storage and cleaning in great detail, reviewing photos of damaged and destroyed sleeves, and focusing on how to avoid such damage.
After a complimentary lunch, the audience receives a full WalkingSeminar™ through Harper Corporation's anilox facility, where members can see how anilox sleeves are handled and laser-engraved before touring the Harper GraphicSolutions laboratory, where Echocheks™ are analyzed and all roll audits are prepared. The lab has interferometer measurement capability as well has microscopic photography and doctor blade angle measuring equipment.
"In addition to the seminars at our facilities, we have customized the seminar for several customers. We started in the Southeast, and it has since spread across the country. These personalized programs are presented inside our customers' plants, training their employees on the care and maintenance of their sleeve inventory," said Mike Huey, HGS Technical Graphics Advisor - Western Division.
"It's a successful program that meets a very real industry need. We continually update these seminars because sleeve technology continues to evolve," added Donato.
For further information, please contact Jazmin Kluttz at 704-588-3371 or jkluttz@harperimage.com.
Quality Care and Maintenance
Supplies for Your Pressroom
Keep your pressroom running smoothly with HarperScientific's variety of care and maintenance supplies. Our comprehensive line includes ink proofers like our patented QD™ proofer for color matching, press washes, solvents, plate cleaners, and brushes. Trust us to provide the high-quality supplies your pressroom needs. Shop now.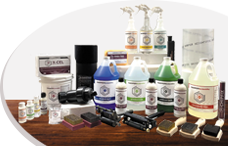 Visit Our Shopping Cart