Harper Sales Group Hears Dynamic Speech From COO Scott Fisher of WS Packaging
Charlotte, NC, April 6, 2010 – Good business practices and a great deal of trust are essential components in successful supplier/customer partnerships, Scott Fisher, Chief Operating Officer at WS Packaging, believes. Fisher spoke to the Annual Sales Meeting of global anilox supplier Harper Corporation in February.
From his corporate headquarters in Green Bay, WI, Fisher oversees one of the largest printing and label converting enterprises in North America. The firm staffs 17 production facilities across the U.S. and in Mexico. Markets include food, beverage, personal care, OTC health, medical, promotional, industrial signage and graphics.
In his dynamic presentation of over two hours, Fisher detailed recent market trends in printing and label converting, forecast likely changes in those industries and explained how he and his technical team selected Harper as his company's anilox roll supplier
Harper, according to Fisher, stands out because of the high quality of its anilox products and the value they represent, its high level of customer service and Harper's ongoing commitment to the marketplace.
"Scott is a phenomenal speaker and people at the sales meeting were blown away by his presentation, really energized," said Mike Huey, Harper Technical Graphics Manager, Western Division. Huey later presented Fisher with a plaque to recognize his trip and speech here.
"WS Packaging is a first-rate company and Scott Fisher's words and thoughtful analysis serve as a motivating factor for all of us at Harper," said Pete Hartman, Harper Vice President of Sales. "We value Scott and his entire team for their continuing professionalism and industry knowledge."
For further information, please contact Jazmin Kluttz at 704-588-3371 or jkluttz@harperimage.com
Quality Care and Maintenance
Supplies for Your Pressroom
Keep your pressroom running smoothly with HarperScientific's variety of care and maintenance supplies. Our comprehensive line includes ink proofers like our patented QD™ proofer for color matching, press washes, solvents, plate cleaners, and brushes. Trust us to provide the high-quality supplies your pressroom needs. Shop now.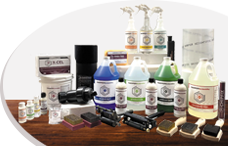 Visit Our Shopping Cart