Harper Technical Specialist Bill Malm to Share Insights at January FTA Meeting
Charlotte, N.C., December 22, 2009 - Technical Specialist Bill Malm of global anilox supplier Harper Corporation of America will address the Great Lakes Group of the Flexographic Technical Association (FTA) on January 7. Also speaking will be Mike Erwin, President of Tailored Label Products.
The Institute for Graphics & Imaging (IGI) on the campus of Waukesha County Technical College in Pewaukee, Wis., will host the group's 2010 kickoff meeting. Registration and networking begin at 4:30 p.m. The session wraps up at 8 p.m. Theme for the event is improving pressroom productivity through employee motivation and education.
Malm, Harper's Midwest and West Coast Technical Sales Specialist, will discuss the critical role training, process standardization and anilox inventory management play in making a print shop successful and profitable.
He will also offer an overview of the Technical Education Services Team (TEST) program - a printer education initiative developed by FTA and sponsored by Harper Corporation. Harper has long been recognized for its advocacy of enhanced printer education.
During his presentation, Erwin will review proven approaches for motivating employees to give peak on the job performance. His company has been honored with many regional and national awards in recent years. A tour of IGI facilities is also scheduled.
David Lanska, FTA Great Lakes Group Chairman, said the session promises to be a "must-attend" event for printers looking to reduce costs and improve productivity.
Admission to the meeting will be $10.00 for FTA members, students and seniors; $15.00 for others.
For further information, please contact Jazmin Kluttz at 704-588-3371 or jkluttz@harperimage.com.
Quality Care and Maintenance
Supplies for Your Pressroom
Keep your pressroom running smoothly with HarperScientific's variety of care and maintenance supplies. Our comprehensive line includes ink proofers like our patented QD™ proofer for color matching, press washes, solvents, plate cleaners, and brushes. Trust us to provide the high-quality supplies your pressroom needs. Shop now.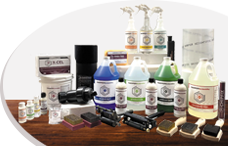 Visit Our Shopping Cart