HarperScientific Division Releases New Size of Anilox Roll Cleaners
Charlotte, North Carolina, June 22, 2011— HarperScientific, division of global anilox roll supplier Harper Corporation, recently announced that it will be offering some of its products in 1,000 liter totes. This new option will allow buyers the option of this larger quantity. This option for the large volume user decreases cost per gallon while also saving floor space.
"We are excited to make this announcement," commented Tony Donato, a Product Development Engineer at Harper Corporation, "because it means to our high volume customers that we can pass on the savings that come from the larger package. Our company is committed to client satisfaction and believes this new packaging option is a win-win for our customers and for Harper."
Aimed at helping customers save on the per gallon cost of these products, HarperScientific now carries 1,000 liter totes of CeramClean Solv-it™, Altra-Wash™ Green, Altra-Wash™ Blue, and UV-Releez™. By offering this new option, HarperScientific is also keeping up with industry trends and rewarding its large volume customers.
One of the main motivations behind this new development is to increase the economies of scale of the HarperScientific products. This increase in volume will allow the company to continue to be an industry leader while also catering to the needs of its customers.
"This is the direction in which we want to take HarperScientific," stated Donato. "We want it to be known for selling high volumes of products at great per gallon prices."
The new packaging option will also decrease the shipping footprint for the total quantity being shipped, reduce the storage footprint, and decrease the number packages to recycle to one from five.
For further information, please contact Jazmin Kluttz at 704-588-3371 or jkluttz@harperimage.com.
Quality Care and Maintenance
Supplies for Your Pressroom
Keep your pressroom running smoothly with HarperScientific's variety of care and maintenance supplies. Our comprehensive line includes ink proofers like our patented QD™ proofer for color matching, press washes, solvents, plate cleaners, and brushes. Trust us to provide the high-quality supplies your pressroom needs. Shop now.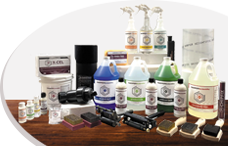 Visit Our Shopping Cart