HarperScientific™ Introduces Handheld Anilox Microscope
Charlotte, N.C., September 2, 2008 - arperScientific™, the printing and coating supplies division of global anilox supplier Harper Corporation of America, is pleased to introduce the Handheld TRM-C Series 400x Microscope.
"With this new, handheld, lighted microscope, our customers can keep a close eye on the condition of their anilox inventories, and find problems like wear, damage and plugging before they threaten print quality and shorten the lives of anilox rolls and sleeves," said Jim Harper, vice president of HarperScientific™.
Just 1.10 lbs and 7.5 inches tall, this tool, which is small enough for handheld field use, offers 400x optical magnification, a .0465mm field of view and a white LED lamp with a life of more than 100,000 hours. It features a windowed positioning adapter that allows perfect positioning over the anilox, and the focus is easily adjusted by rotating the eyepiece.
HarperScientific is the manufacturer of CeramClean II™ and CeramClean SOLV-IT™ anilox cleaners, a wide variety of flexographic and gravure hand-proofing systems, and SleeveWrak™ anilox roll racks.
For further information, please contact Jazmin Kluttz at 704-588-3371 or jkluttz@harperimage.com.
Quality Care and Maintenance
Supplies for Your Pressroom
Keep your pressroom running smoothly with HarperScientific's variety of care and maintenance supplies. Our comprehensive line includes ink proofers like our patented QD™ proofer for color matching, press washes, solvents, plate cleaners, and brushes. Trust us to provide the high-quality supplies your pressroom needs. Shop now.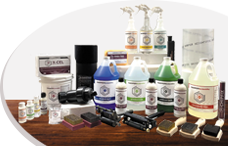 Visit Our Shopping Cart