HarperScientific™ Introduces the First Portable Proofing System
Charlotte, N.C., August 20, 2009 - HarperScientific™, the printing and coating supplies division of anilox roll supplier Harper Corporation of America, is proud to introduce the first fully portable proofing system, the Phantom QD™ Quick Drawdown Proofing System. The Phantom QD will make its debut next month at LabelExpo Europe 2009. Attendees can preview this innovative new proofer at the Harper Graphics GmbH booth, #11Q50.
"It's an extremely exciting and practical new product," said Jim Harper, Vice President of HarperScientific. "The Phantom QD is more than just another hand proofer, it comes with its own pressure loading system. The Phantom QD is simple to use, utility-free and no compressed air or electricity is needed, so it's not locked in the ink-room. It can be used anywhere you need to draw down an ink proof."
In addition to its magnetic-loaded doctor blade and quick-change anilox and rubber rollers, the Phantom QD was designed to allow Anilox and rubber rollers to be interchangeable with both the Echocel™ Junior and Phantom™ hand proofers. It draws down reliably consistent proofs time after time because of its unique loading system with constant pressure over the entire stroke length.
The Phantom QD Complete Proofing System is available at www.harperscientific.com as a proofer and table kit only, or in three accessory package choices:
Phantom QD™ Complete Proofing System with (1) Standard Traditional Anilox Roll
Phantom QD™ Complete Proofing System with (3) Standard Traditional Anilox Rolls
Phantom QD™ Complete Proofing System with (6) Standard Traditional Anilox Rolls
HarperScientific is also the manufacturer of CeramClean II™ and CeramClean Solv-It™ anilox cleaner, a wide variety of flexographic and gravure hand-proofing systems, and other products to make the pressroom safer and more efficient.
Quality Care and Maintenance
Supplies for Your Pressroom
Keep your pressroom running smoothly with HarperScientific's variety of care and maintenance supplies. Our comprehensive line includes ink proofers like our patented QD™ proofer for color matching, press washes, solvents, plate cleaners, and brushes. Trust us to provide the high-quality supplies your pressroom needs. Shop now.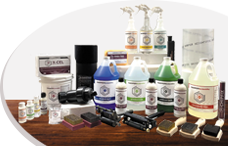 Visit Our Shopping Cart