HarperScientific Produces Cylinder Wrack™ Custom Plate Cylinder Storage System
Charlotte, North Carolina, August 1, 2012—HarperScientific division of global anilox roll supplier Harper Corporation of America announces its first rack to store plate cylinders for Mark Andy's P-Series presses. Because of the unique plate cylinders of the P-Series presses, HarperScientific designed its Cylinder Wrack™ to provide a storage solution that is equally distinct. The first unit delivered exceeded customer expectations.
The plate cylinder design of the Mark Andy P-Series presses integrates the shaft and bearings into the cylinder assembly. The P-Series cylinders have bearer discs on each end of the shaft. For this reason, they do not fit into any traditional storage solutions. HarperScientific's Cylinder Wrack™ utilizes the space between the bearer and cylinder and opposite bearer and gear to support these cylinders horizontally.
The Cylinder Wrack™ comprises of 21 storage trays, which are arranged in three columns of seven trays. Each tray is padded at the ends and has a cam action to lower the front when desired, to ensure easy unloading. When fully loaded, the Cylinder Wrack™ can hold between 126 and 168 cylinders, depending upon their repeat. To improve the effectiveness of this storage solution, HarperScientific's product development experts put the Cylinder Wrack™ on heavy duty casters, allowing customers to easily move the system to enhance workflow.
Paul Teachout, Harper's Technical/OEM Account Manager, believes the Cylinder Wrack™ provides the convenience, quality, and efficiency that Harper Corporation's customers have come to expect.
"The Cylinder Wrack™ is easy to load and unload," states Teachout. "It also allows the printer the flexibility to group the like repeats and jobs."
For more information, please contact Jazmin Kluttz at 704-588-3371, ext. 4292, or jkluttz@harperimage.com
Quality Care and Maintenance
Supplies for Your Pressroom
Keep your pressroom running smoothly with HarperScientific's variety of care and maintenance supplies. Our comprehensive line includes ink proofers like our patented QD™ proofer for color matching, press washes, solvents, plate cleaners, and brushes. Trust us to provide the high-quality supplies your pressroom needs. Shop now.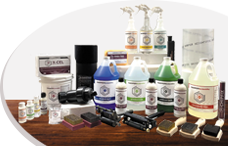 Visit Our Shopping Cart