HarperScientific Signs Chemisolutions As Distributor For Colombia
Charlotte, NC, September 15, 2010– Global anilox supplier Harper Corporation of America is expanding its international profile again.
In late August, Harper's printing and coating supplies division, HarperScientific™, signed a formal distribution agreement with Chemisolutions S.A.S. The Colombia, South America-based firm provides sales and support for performance- and quality-improving chemical compounds used within the graphic arts and plastics industries.
The new agreement provides Chemisolutions with exclusive distribution rights throughout its home country for Ceram Clean II™ and CeramClean Solv-it™ -- two of Harper's most widely used ink cleaning products. Jose Noel Gomez serves as General Manager of Chemisolutions; he can be contacted at josegomez@chemisolutions.com.co
"Harper distributors add much to our service commitment by providing technical advice and enhancing the everyday supplier/customer relationship," said Jim Harper, HarperScientific™ Vice President. "Jose Gomez and staff at Chemisolutions are a valued addition; we look forward to working with them."
Anilox roll cleaner Ceram Clean II™ effectively removes water-based, UV and solvent dried inks from engravings without damaging the cell structure on ceramic and chrome cylinders. The cleaner also removes roll face stains. Harper's biodegradable CeramClean Solv-it™ is scientifically designed for deep cleaning of solvent-based inks, adhesives and UV coatings. The cleaner is completely free of petroleum distillates.
For more information, please contact Jazmin Kluttz at 704-588-3371 or jkluttz@harperimage.com
Quality Care and Maintenance
Supplies for Your Pressroom
Keep your pressroom running smoothly with HarperScientific's variety of care and maintenance supplies. Our comprehensive line includes ink proofers like our patented QD™ proofer for color matching, press washes, solvents, plate cleaners, and brushes. Trust us to provide the high-quality supplies your pressroom needs. Shop now.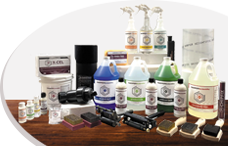 Visit Our Shopping Cart