HarperScientific™ Unveils Altrawash Green™for Safe, Non-corrosive Cleaning
Charlotte, NC - June 19, 2007 - HarperScientific™, the printing and coating supplies division of global anilox supplier Harper Corporation of America, announces the introduction of AltraWash Green™, an environmentally friendly and aluminum-safe multi-purpose cleaner for water-based inks.
"AltraWash Green™ is revolutionary," said Tony Donato, Technical Sales Solutions Manager at HarperScientific. "Not only is it exceedingly environmentally friendly, but it is perfectly safe for aluminum, which opens it up to a multitude of uses."
Because aluminum is used in the construction of lightweight anilox rolls and most anilox sleeves, printers need to choose their cleaners with care if they are to protect their anilox investments. AltraWash Green's™ cleaning formula is non-corrosive to aluminum, so it is ideal for anilox cleaning on or off-press. It is also designed to be safe and effective for use in pressure washing systems, soak tanks, ultrasonic tanks or flushing through the entire ink system.
The new cleaner's advanced surfactant technology is exceedingly environmentally friendly, using no petroleum distillates or environmentally hazardous chemicals. It is biodegradable, has low vapor pressure and produces no V.O.C.s. AltraWash Green™ has a pH of 11.8. Available exclusively through HarperScientific, this concentrated formula, which can be diluted with water, is sold in 1 gallon, 5 gallon, 30 gallon and 55 gallon containers.
HarperScientific is the manufacturer of CeramClean II™ and CeramClean SOLV-IT™ anilox cleaners, a wide variety of flexographic and gravure hand-proofing systems, and DuroSeal™ chamber blade end seals.
For further information, please contact Jazmin Kluttz at 704-588-3371 or jkluttz@harperimage.com.
Quality Care and Maintenance
Supplies for Your Pressroom
Keep your pressroom running smoothly with HarperScientific's variety of care and maintenance supplies. Our comprehensive line includes ink proofers like our patented QD™ proofer for color matching, press washes, solvents, plate cleaners, and brushes. Trust us to provide the high-quality supplies your pressroom needs. Shop now.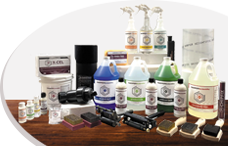 Visit Our Shopping Cart