Latest Harper Technologies Attract Big Interest Among Radtech UV/EB Expo Attendees
Charlotte, NC, June 9, 2010 –Visitors to the world's largest conference for ultraviolet (UV) and electron beam (EB) curing professionals attended booth demonstrations featuring two of the most in-demand technologies pioneered by global anilox supplier Harper Corporation of America.
HarperScientific Product Development Engineer Tony Donato and Bill Poulson, Northeast Technical Graphics Advisor at Harper GraphicSolutions™, briefed attendees on the advantages of the Harper Xtreme Digital Imaging (XDI™) platform and popular Phantom QD™ quick drawdown proofing system. The four-day RadTech UV/EB 2010 show took place in Baltimore in late May.
On the market for less than a year and now patent pending, the Phantom QD™ is the first fully portable ink proofing system. Utility-free, the Phantom QD™ System produces constant loading pressure without an external power supply. Linearly guiding and loading the QD proofer down the length of the 500mm table, with its magnetic-loaded doctor blade and quick-change anilox roller, the highly repeatable proofing system produces ink or coating draw downs on almost any substrate.
At the RadTech Technology Expo the Harper experts provided live demonstrations using the Phantom QD proofing system complemented with a GEW UV curing unit and displayed the XDI anilox technology. By using XDI™ ceramic laser engraved cylinders, gravure printers can benefit from the wear resistance of the ceramic and graphically prepared images that are laser engraved.
"Our Phantom QD continues to draw the attention of ink and coating professionals who seek the highest degree of precision proofing," Donato said. "More and more from the industry, the Phantom is viewed as the ultimate tool for improving pressroom efficiency."
For further information, please contact Jazmin Kluttz at 704-588-3371 or jkluttz@harperimage.com
Quality Care and Maintenance
Supplies for Your Pressroom
Keep your pressroom running smoothly with HarperScientific's variety of care and maintenance supplies. Our comprehensive line includes ink proofers like our patented QD™ proofer for color matching, press washes, solvents, plate cleaners, and brushes. Trust us to provide the high-quality supplies your pressroom needs. Shop now.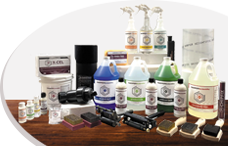 Visit Our Shopping Cart