Mexico City Label Summit Briefed On UV Flexographic Trends by Harper Expert
Charlotte, NC, October 20, 2010 –When Label Summit Latin America 2010 opened in Mexico City this summer, representatives from global anilox supplier Harper Corporation were there to greet attendees and talk about today's flexographic printing trends.
Alexander James, Technical Graphics Manager for the Eastern Division of Harper GraphicSolutions™, spoke on the topic "UV Flexo – Today and Tomorrow" and was joined by three other presenters.
In his comments, James pointed to new trends in UV flexographic press technology. He explained how recent innovations can add real value throughout a company's printing and converting line and illustrated how the UV flexo process can successfully compete with digital approaches.
Juan Bermudez, Harper's Sales & Service Manager for Latin America, also represented Harper at the label get-together.
For further information, please contact Jazmin Kluttz at 704-588-3371 or jkluttz@harperimage.com
Quality Care and Maintenance
Supplies for Your Pressroom
Keep your pressroom running smoothly with HarperScientific's variety of care and maintenance supplies. Our comprehensive line includes ink proofers like our patented QD™ proofer for color matching, press washes, solvents, plate cleaners, and brushes. Trust us to provide the high-quality supplies your pressroom needs. Shop now.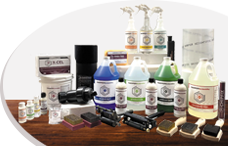 Visit Our Shopping Cart