Donato and Poulson Hit Home Runs at FFTA
Charlotte, N.C., June 27, 2008 - Technical experts from global anilox supplier Harper Corporation of America received outstanding ratings from session attendees at the 2008 Foundation of Flexographic Technical Association (FFTA) Forum in Dallas, Tex.
Tony Donato, Product Development Engineer at Harper Corporation of America, presented at the Flexo 101 session, addressing the relationship of doctor blade contact angle to vibration, as well as the importance of loading pressure and blade material. Always creative, Donato employed a cupcake tin to demonstrate the interaction between anilox roll, doctor blade and cylinder. He explained that the relationship between a doctor blade ink metering system and an anilox roll is geometrical as well as mechanical, emphasizing that careful control of the variables will produce optimal print results.
Afterward, attendees commented that it was a "very good presentation" with "easy-to-understand illustrations." Donato's ratings were nearly exclusively "outstanding" or "very good."
Bill Poulson, Northeast Technical Graphics Advisor at Harper GraphicSolutions™ teamed up with Kurt Hudson of Water Ink Technologies to present a session about correlating an ink proofer to the press. Poulson launched into the subject by advising that printers reduce their anilox inventories to two or three volumes. Any more than that, he warned, and "You're setting yourself up for failure." He also recommended performing a banded anilox test to determine the best volumes, and he compared the results of a doctor-bladed hand proofer to a press. Hudson brought the presentation full circle with illustrations of spectrodensitometer readings on the proofer's correlation to the press.
The comments the presentation garnered included "Solid practices presented for color matching," and "Good, relevant content." The pair earned nearly unanimous ratings of "outstanding" and "very good."
For further information, please contact Jazmin Kluttz at 704-588-3371 or jkluttz@harperimage.com.
Quality Care and Maintenance
Supplies for Your Pressroom
Keep your pressroom running smoothly with HarperScientific's variety of care and maintenance supplies. Our comprehensive line includes ink proofers like our patented QD™ proofer for color matching, press washes, solvents, plate cleaners, and brushes. Trust us to provide the high-quality supplies your pressroom needs. Shop now.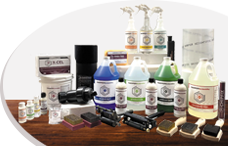 Visit Our Shopping Cart