Harper Corporation Uses Phantom QD™ System For Course At 2010 FlexTech Conference
Charlotte, N.C., February 10, 2010 – Tony Donato of global anilox supplier Harper Corporation of America took part in an abbreviated course on commercial high-speed roll-to-roll printing techniques at the recent 2010 Flexible Electronics & Displays Conference in Phoenix, Arizona.
Donato, Product Development Engineer at Harper, spoke as part of a workshop organized by the Sonoco Institute of Packaging Design and Graphics at Clemson University and presented by Jay Sperry.
After the presentation highlighting basic approaches and resulting benefits of flexo, gravure and screen printing, Donato conducted hands-on demonstrations using the Harper Phantom QD™ quick drawdown proofing system equipped for flexo and gravure simulations using conductive inks.
Donato demonstrated both a standard flexo proofer and specially designed gravure proofer using the constant pressure QD table. Easy to use, the recently introduced portable Phantom QD ink proofing system operates utility free. The gravure cylinder was a XDI™ laser engraved ceramic gravure cylinder that was engraved with a simulated printed circuit layout. To simulate the flexo application, the rubber transfer roller had the same circuit engraved in the round. The Phantom QD system has more uses than just proofing inks.
In addition to the demonstrations Harper displayed a XDI™ ceramic gravure cylinder with both continual and imaged engravings. Both 200X & 400X scopes were available to the attendees to view the engravings.
The three-day 2010 Flexo Conference offered attendees the opportunity to listen to insights and perspectives from both industry leaders and technology experts. It featured more than 80 market and technical presentations.
For further information, please contact Jazmin Kluttz at 704-588-3371 or jkluttz@harperimage.com
Quality Care and Maintenance
Supplies for Your Pressroom
Keep your pressroom running smoothly with HarperScientific's variety of care and maintenance supplies. Our comprehensive line includes ink proofers like our patented QD™ proofer for color matching, press washes, solvents, plate cleaners, and brushes. Trust us to provide the high-quality supplies your pressroom needs. Shop now.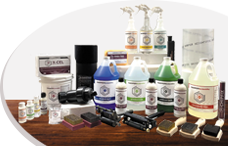 Visit Our Shopping Cart