Harper Corporation of America Announces Sean Teufler as Technical Account Manager for Wide Web
Charlotte, North Carolina, March 24, 2015—Global anilox roll supplier Harper Corporation of America is proud to announce that Sean Teufler will serve as Technical Account Manager for the Wide Web Sales Team for the Central Plains. Teufler is transitioning into this role after having spent the past 12 years as part of Harper GraphicSolutions (HGS), Harper Corporation's technical service group, as a Technical Graphics Advisor.
Prior to joining HGS, Teufler worked as an ink technician for a narrow web printing company for 12 years. Upon joining Harper Corporation of America, he became actively engaged in the flexographic industry as part of the FTA Supplier Council in 2008. He also served as group leader for two Flexo Quality Consortium projects and as an FTA Awards Judge in 2014.
Teufler has thrived at Harper being recognized as Technical Representative of the Year with HGS for seven consecutive years and earning the 2012 FTA President's Award for Leadership Excellence. He has spoken at numerous FTA events and co-chaired the 2012 Fall Conference in Milwaukee, Wisconsin. In 2004, Teufler earned his NCSS Certification for Flexographic Press Operator, and in 2011 he earned his FFTA/TEST FIRST Operator Certification Level I and Implementation Specialist Certification Level II and III.
Harper Corporation of America is confident that Teufler will be a strong asset in his new role and continue to support our Central Plains states' customers with excellent service and support.
For more information, please contact Jazmin Cordero at 704-588-3371, ext. 4292, or jcordero@harperimage.com.
Quality Care and Maintenance
Supplies for Your Pressroom
Keep your pressroom running smoothly with HarperScientific's variety of care and maintenance supplies. Our comprehensive line includes ink proofers like our patented QD™ proofer for color matching, press washes, solvents, plate cleaners, and brushes. Trust us to provide the high-quality supplies your pressroom needs. Shop now.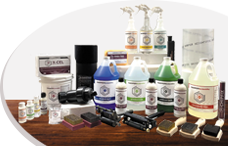 Visit Our Shopping Cart