Harper Corporation of America Attended FlexTech 2012
Charlotte, North Carolina, February 27, 2012—Global anilox roll supplier Harper Corporation attended FlexTech 2012 in Phoenix, Arizona. The conference and exhibition ran from February 6 to February 9, 2012.
Held at the Arizona Grand Resort, FlexTech 2012 is the annual Flexible Electronics and Displays Conference and Exhibition. Harper Corporation of America was one of over 200 organizations represented at the event, which attracted over 500 attendees. During the exhibition, Harper Corporation shared a booth with Clemson University.
The collaboration between Harper Corporation and Clemson University came about after Dr. Chip Tonkin received the request from the conference organizer for a live demonstration of conductive inks and the flexo and gravure processes. Product Development Engineer Tony Donato, using the motorized Phantom QD flat bed ink proofing system combined with flexo and gravure proofers, XDI imaged cylinders, imaged rubber rolls, and a customized flexo proofer equipped with a plate cylinder, conducted draw downs for large groups of attendees. Clemson's Dr. Liam Ohara designed both flexo and gravure circuit layouts that were used to make cylinders and plates. Through these demonstrations, many event attendees witnessed the benefits of the flexo and gravure printing processes. Additionally, they discovered how these processes can be used within this quickly growing industry.
For more information, please contact Jazmin Kluttz at 704-588-3371, ext. 4292, or jkluttz@harperimage.com.
Quality Care and Maintenance
Supplies for Your Pressroom
Keep your pressroom running smoothly with HarperScientific's variety of care and maintenance supplies. Our comprehensive line includes ink proofers like our patented QD™ proofer for color matching, press washes, solvents, plate cleaners, and brushes. Trust us to provide the high-quality supplies your pressroom needs. Shop now.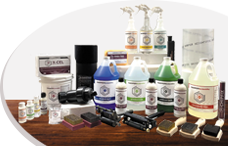 Visit Our Shopping Cart