Harper Corporation of America Welcomes Back Sean Teufler as Technical Director
Charlotte, North Carolina, June 13, 2017—Global anilox roll supplier Harper Corporation of America is pleased to announce that Sean Teufler is returning to the company to assume the role of Technical Director. He had previously worked for Harper Corporation for more than 13 years serving as an HGS Technical Advisor, a Technical Manager, and most recently, Corporate Technical Manager.
Teufler has worked in the printing industry since 1991 and has held a variety of roles including ink technician for a printing company, technical service/sales/management for Harper, and consulting/cost savings projects for Siegwerk. As Technical Director, he will guide and direct technical improvement for the technical division, coordinate and facilitate communication with international partners and customers, serve as the technical service contact and liaison for European and Asian customers, and coordinate technical services for OEMs and Corporate Accounts. Teufler will be a major asset to each region and available to assist in any troubleshooting recommendations as well as answer any technical questions to better support customers.
During his previous tenure at Harper, Teufler won Technical Representative of the Year seven years in a row from 2005 through 2011. He was also part of the winning teams for the 2012 Harper President's Club award for wide web, and the 2013 Harper Sales Champion award for narrow web. He has completed advanced training achieving FIRST Level III Implementation Specialist certification in 2011 and was recertified in 2015.
Since 2008, Teufler has been a member of the Supplier's Council, and he was appointed Chair for 2017. He is also very active with the FTA and co-chaired the 2012 FTA Fall Conference in Milwaukee, Wisconsin, and the 2016 FTA Fall Conference in Louisville, Kentucky. He is a frequent presenter at the FTA Fall Conferences and Spring Forums – most recently in 2017 for the 101 and 102 sessions in Phoenix, Arizona – and has been a judge at three FTA events, including one in 2017. In 2011-2012, Teufler was the leader for the FQC UV Spitting project and earned the 2012 FTA President's Award for Leadership Excellence. He is a prolific writer and has achieved publication for more than 20 technical articles.
Harper Corporation of America is thrilled to welcome Sean Teufler back to the team and is confident that he will once again be a positive asset to employees and customers alike.
For more information, please contact Jazmin Siancas at 704-588-3371, ext. 4292, or jsiancas@harperimage.com.
Quality Care and Maintenance
Supplies for Your Pressroom
Keep your pressroom running smoothly with HarperScientific's variety of care and maintenance supplies. Our comprehensive line includes ink proofers like our patented QD™ proofer for color matching, press washes, solvents, plate cleaners, and brushes. Trust us to provide the high-quality supplies your pressroom needs. Shop now.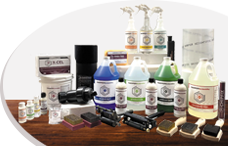 Visit Our Shopping Cart