Harper Donates State of the Art Equipment to High School Flexo Program
Charlotte, N.C., July 27, 2007 - Global anilox supplier and flexo education champion Harper Corporation of America has made a major equipment donation to Fort Mill High School in Fort Mill, South Carolina. xxxThe high school's graphic communications department will receive the donation of a FlexSys™ Press Simulator and a Macintosh computer with monitor.
"We are absolutely thrilled to get these machines!" said Jerry Howell, graphic communications teacher at Fort Mill High School. "Harper has always been very generous to us and supportive of our program with the donation of its high-quality anilox rolls. The addition of this gift gives our program a real leg up!"
"It's very exciting to support the expansion of this flexo program," said Margaret Harper Kluttz, president of Harper Corporation. "Giving back to flexography by helping to create a trained workforce is a priority for Harper Corporation."
The FlexSys™ Press Simulator is a diagnostic and training program that utilizes custom-designed software to simulate any flexographic printing press, and allows students to interactively practice problem-solving techniques. A monitoring and cost analysis feature allows for a correlation of effective press utilization with production economies. Dual computer monitors display the press controls and the printed product during the simulated press run. Harper Corporation was a guiding force in the development of this training tool.
The generosity of the Harper family and Harper Corporation in flexo education is legendary. Founders Ron and Katherine Harper helped pilot the first Flexo in High Schools program (now Flexo in Education) in the early 1990s, filling a void in vocational education for youth and establishing a trained future workforce for flexography. Earlier this year, Ron Harper established the "Katherine Harper Teacher's Education Fund" through the Phoenix Challenge Foundation.
The Harpers' support for the flexo programs at Central Piedmont Community College (CPCC) and Appalachian State University (ASU) has resulted in CPCC's Harper Campus in Charlotte, N.C., which houses the Harper National Flexographic Center, and ASU's Katherine Harper Hall, home of its graphics program on the Boone, N.C. campus.
For further information, please contact Jazmin Kluttz at 704-588-3371 or jkluttz@harperimage.com.
Quality Care and Maintenance
Supplies for Your Pressroom
Keep your pressroom running smoothly with HarperScientific's variety of care and maintenance supplies. Our comprehensive line includes ink proofers like our patented QD™ proofer for color matching, press washes, solvents, plate cleaners, and brushes. Trust us to provide the high-quality supplies your pressroom needs. Shop now.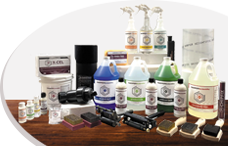 Visit Our Shopping Cart